Help America Vote Act (HAVA)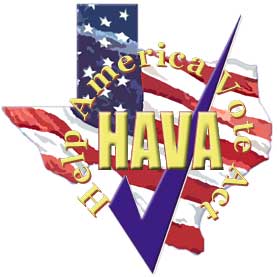 On October 29, 2002, President Bush signed HR 3295, the Help America Vote Act ("HAVA"). This federal legislation creates many new mandates for state and local government, and provided approximately 3.9 billion dollars in federal funding with roughly $190 million going to Texas, including state matching funds.
Some of the central requirements of HAVA are listed below:
Beginning 1/1/2006, the state and counties are required to work from a single, centralized, unique statewide voter registration list., The system deployed in Texas is known as the Texas Election Management System ("TEAM").
As of 1/1/2006, each polling place in the state must have at least one accessible voting system per polling place.
Instead of using the challenge voter process, voters whose names do not appear on the voter registration roll, may vote a provisional ballot, which is not counted until the voter's eligibility is verified after the election.
A free and confidential system was developed for provisional voters to check to determine if their provisional ballot was counted.
New requirements for electronic voting systems, and new voter educational requirements for counties using paper ballot, central count optical scan and punch card voting systems are required as of January 2006.
FPCAs are now effective for a period of TWO general federal elections, instead of the calendar year.
The state filed a "State Plan" explaining how the state and counties will meet the new requirements.
The state established and maintained a state-based administrative complaint process for voters who file a sworn complaint that their voting rights have been violated.
At the federal level, a new independent agency was created, the Election Assistance Commission. The Commission advises election authorities and distributed federal requirements payments to the states and has audit authority over the funding. An Election Standards Board was also created. The Standards Board advises the Commission and is comprised of 55 state election officials and 55 local election officials. The two members of the Standards Board from each state or territory must be members of different political parties. If you have any questions, suggestions, or concerns, please contact the Elections Division at 1-800-252-2216.