Secretary Scott Convenes First Border Trade Advisory Committee Meeting of 2022
February 24, 2022
Contact: Sam Taylor
512-463-6116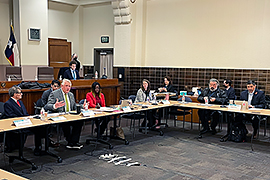 Secretary Scott convenes the first 2022 Border Trade
Advisory Committee (BTAC) meeting of 2022. Office
of the Texas Secretary of State, 2/24/2022
AUSTIN — In his capacity as Border Commerce Coordinator for the State of Texas, Texas Secretary of State John Scott today convened the first Border Trade Advisory Committee (BTAC) meeting of 2022 in coordination with the Texas Department of Transportation (TxDOT). BTAC is composed of public and private sector stakeholders from throughout the Texas-Mexico border region who work collaboratively to advance solutions to cross-border infrastructure challenges that facilitate safe, secure and efficient international commerce.
Secretary Scott heard presentations from TxDOT staff and engineers on acute traffic safety issues and trends in the Texas-Mexico border region and beyond, highlighting the need for local and regional transportation authorities to work collaboratively to address the unique transportation safety challenges they face.
"What works in El Paso might not work in Laredo or the Rio Grande Valley. It simply cannot be a 'one-size-fits-all' approach - it must be tailored to each of your local communities," Secretary Scott said. "We must gain a better understanding of the specific safety needs, conditions and challenges of each region throughout our sprawling border with Mexico. Ultimately, efficiency and safety should go hand-in-hand, and I thank everyone for their input on how to accomplish our collective goal of improving our cross-border trade operations throughout the Texas-Mexico border region."
TxDOT staff also presented an overview of Phase II of the Border Trade Master Plan (PDF), approved by the Texas Transportation Commission in March 2021, which includes key policy, program and project recommendations to support local, state and federal officials from the U.S. and Mexico for improving operational efficiency in facilitating the movement of commercial traffic across Texas' 28 land border crossings with Mexico. The Master Plan (PDF) includes:
22 policy recommendations to advance borderwide transportation goals;
153 program recommendations to address Texas-Mexico transportation infrastructure needs; and
661 targeted, location-specific project recommendations to achieve policy objectives, with a combined estimated cost of $37.4 billion
"We have a great road map for continued success, and now we can focus on securing the necessary funding to make the projects identified in the Master Plan a reality," Secretary Scott said. "The Committee's input in these conversations is absolutely vital to finding solutions to address outstanding problems that impede the safe and efficient facilitation of cross-border commerce between Texas and Mexico."
Learn more about the Border Trade Advisory Committee (BTAC).
Learn more about the Texas Border & Mexican Affairs division of the Texas Secretary of State's office.
###