Secretary Hughs Presents Border Transportation Master Plan To Texas Transportation Commission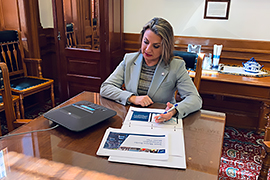 (Secretary Hughs presents the Border Transportation
Master Plan to the Texas Transportation Commission..
Office of the Texas Secretary of State, 12/10/2020)


AUSTIN - Texas Secretary of State Ruth R. Hughs yesterday presented to the Texas Transportation Commission the Border Transportation Master Plan (BTMP). The completed BTMP is the result of joint efforts between TxDOT and the Border Trade Advisory Committee (BTAC), which the Secretary chairs in her capacity as Texas' Border Commerce Coordinator.
"The purpose of the border master plan is to identify and highlight infrastructure priorities and projects as well as funding needs for necessary improvements that will support the State's economic vitality and global competitiveness," said Secretary Hughs. "With its approval, this plan will be a key resource to convey the importance of investing in the future of the Texas-Mexico border, an invaluable economic asset that benefits not only our border areas, but the entirety of North America."
Input solicited from stakeholders throughout the Texas-Mexico border region at BTAC meetings over the past year helped to identify areas in which local, state, and U.S.-Mexican federal officials can coordinate to continue improving operational efficiency and facilitating the movement of freight, goods, and people across Texas' 28 border crossings.
###