Secretary Hughs Announces Collaboration With AWS Educate To Provide New Statewide Education-To-Workforce Opportunities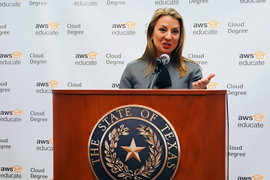 (Secretary Hughs announces new collaboration
with AWS.), Texas Office of the Texas Secretary of
State, 9/25/2019)
DALLAS– Texas Secretary of State Ruth Hughs today announced, along with educational leaders and workforce development groups, a new collaboration with Amazon Web Services (AWS) to unlock job opportunities in cloud computing. The initiative will scale to create pathways towards high-paying, tech related careers for students across the state of Texas. This announcement came as Texas government, education, and economic development officials met with AWS representatives at the Dallas County Community College District administration office.
As part of the collaboration, academic institutions will leverage AWS Educate, Amazon's global initiative to support cloud learning with students or faculty, to build computer and data-related skills for K-12 curriculum as well as associate's or bachelor's degree programs. The partnership will also work with employers throughout Texas who have a growing need for tech-workers with cloud computing skills.
"AWS Educate will further expand resources and opportunities for Texas students to remain at the forefront of the technological revolution," said Secretary Hughs. "By working collaboratively, educational leaders, workforce development groups, and AWS have developed an innovative new degree program that will address the growing needs of tech employers in the Lone Star State. I thank Amazon and our partners across the state for their work in making this program a reality, and I look forward to keeping Texas a leader in tech and innovation."
This new statewide initiative will bring unprecedented cooperation toward innovative new pathways that streamline workforce development by bringing together educational institutions across the state as well as employers to best scale cloud computing specializations.
"I want to thank AWS Educate for working with our partners around the state to bring valuable higher education opportunities to our students so they can compete in the 21st century economy," said Governor Greg Abbott. "Implementing a Cloud IT curriculum and certification program in our secondary education programs will provide Texas students with the tools they need to succeed outside of the classroom. This exciting collaboration will further contribute to Texas' exceptional and continued economic growth."
"Setting students on the path toward career success starts with their education," said Dr. Joe May, Chancellor, Dallas County Community College District. "Working with employers like AWS to create high-demand programs like cloud computing is an important part of our district's mandate. We are excited to offer a degree that will fill the pipeline for a high-tech field that is experiencing significant job demand, not only in North Texas, but across the state."
"To achieve the statewide goal of having 60% of students with degrees by 2030, we can't get there by doing business as usual. We need to innovate," said Commissioner of Higher Education Raymund A. Paredes. "The collaborative efforts among state agencies, institutions and employers that resulted in this innovative degree program is a positive example. Working together, we developed a rigorous program that meets a critical workforce need and provides young people with a pathway to high-demand careers."
From K-12 to community colleges through 4-year institutions and on into the workforce, training today's students in cloud computing skills allows them to tap into the tremendous opportunities in technology careers," said Ken Eisner, Director of Worldwide Education Programs for AWS and head of AWS Educate. "We appreciate the collaborative efforts of stakeholders to leverage this opportunity across the state, from urban to rural areas and into underserved communities."
AWS Educate is in collaboration with a number of Texas institutions, including the Texas Higher Education Coordinating Board, the Texas Workforce Commission, and the Texas State University System, as well as the following institutions which are pursuing a cloud computing degree:
K-12
Dallas ISD
Irving ISD
Houston ISD
Community Colleges
Alamo Colleges
Alvin Community College
Austin Community College
Central Texas College
Collin College
Dallas County Community College District
Del Mar College
El Paso Community College
Grayson College
Hill College
Houston Community College
Kilgore College
Lamar Institute of Technology
Lone Star College
McLennan Community College
North Central Texas College
South Texas College
Tarrant County College
Texas State Technical College
Vernon College
Victoria College
Wharton County Junior College
Universities
Jarvis Christian College
Prairie View
Philip's College
AWS Educate is a global initiative to provide students with comprehensive resources for building cloud technology skills. With a focus on real-world, applied learning experiences, AWS Educate offers learners access to self-paced content designed to introduce cloud computing technologies that drive innovation in fields such as artificial intelligence, voice and facial recognition, gaming, medical advancements, and more. Additionally, AWS Educate provides access to the AWS Educate Job Board, a feature that allows students to search and apply for thousands of cloud jobs and internship opportunities from Amazon and other companies around the world.
###