Secretary Hughs Visits W.B. Ray High School, Encourages Eligible Students To Register To Vote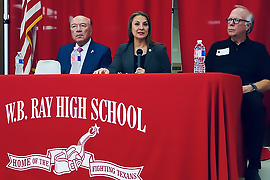 (Secretary Hughs visited W.B. Ray High School,
where she was joined by Senator Juan "Chuy"
Hinojosa and Representative Todd Hunter. Office
of the Texas Secretary of State, 9/16/2019)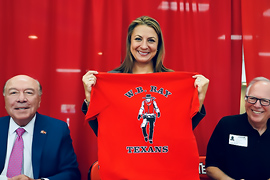 (Secretary Hughs shows off her school spirit.. Office
of the Texas Secretary of State, 9/16/2019)
AUSTIN, TX – On Friday, Texas Secretary of State Ruth Hughs visited her alma mater, W.B. Ray High School in Corpus Christi, where she was joined by Senator Juan "Chuy" Hinojosa and Representative Todd Hunter to address students on the importance of civic engagement and registering to vote. The Secretary encouraged eligible students to register to vote when they turn 18 years old.
"The future of Texas has long been shaped by the actions of everyday Texans, and I want encourage all eligible Texas students to register to vote so that they can make their voices heard within our state," said Secretary Hughs. "As an alumna of W.B. Ray High School, I'm grateful for the stellar education that I received during my time here, and it was an honor to speak to current students about the importance of actively participating in our democracy."
The deadline to register to vote is October 7th, 2019, for the upcoming November 5th, 2019 election.
How To Get Involved:
Texas superintendents can get involved by signing a pledge and committing all of their high school principals to fulfill their duties as deputy voter registrars in their respective counties. To sign the pledge, superintendents can visit the Texas Secretary of State's Project V.O.T.E. web page, which includes additional resources for student civic engagement.
###