Secretary Whitley Meets With U.S. Census Bureau To Discuss Achieving Complete Count For Texas In 2020 Census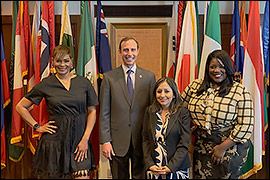 (From left to right: U.S. Census Bureau Partnership
Coordinator Rebecca Briscoe, Secretary of State
David Whitley, U.S. Census Bureau Partnership
Specialist Maria Campos, U.S. Census Bureau
Media Coordinator Nakia Cooper)



(Texas Secretary of State David Whitley meets with
regional and local representatives from the U.S.
Census Bureau)

AUSTIN – Texas Secretary of State David Whitley this week met with regional and local representatives from the U.S. Census Bureau to discuss achieving a complete count for the State of Texas in the 2020 Census. During the meeting, Secretary Whitley received a substantive update on efforts being undertaken at the local level to achieve a complete count and examined strategies for reaching hard-to-count populations ahead of the forthcoming decennial census. Secretary Whitley expressed his full support for the Census Bureau's outreach activities in Texas and offered the Secretary of State's office as a resource for entities across Texas working toward the common goal of achieving a complete count in 2020.
"In order to ensure Texas receives its fair share of federal funding in critical areas such as transportation, education, heath care, housing assistance, and disaster relief, and to ensure Texans are appropriately represented in congress, it is incumbent upon state agencies, local stakeholders, and community organizations to work collaboratively to strive for a complete and accurate count of people living in the Lone Star State," Secretary Whitley said. "Our office is pleased to serve as a liaison to the U.S. Census Bureau as we continue to work together to share ideas and resources in spreading the word to all Texans about the importance of participating in the 2020 Census."
2020 Census Facts:
For the first time in the history of the U.S. Census, participants will be able to respond online, by phone, or by mail.
All personal information collected by the Census Bureau is confidential and respondents' information is not shared with other government agencies.
Information derived from the decennial census will determine the allocation of more than $675 billion annually in federal funds.
According to a recent study (PDF), Texas receives more than $59 billion annually in federal funds based on decennial census data.
Following the 2010 Census, Texas was determined to have a population of 25,145,561. The most recent population estimate provided by the U.S. Census Bureau for the State of Texas in July 2018 was 28,701,845.
More than 50 Regional Area Census Offices will be opened by the fall of 2019, more than half of which will be opened in Texas.
The Census Bureau is currently hiring for temporary positions in Texas, including census takers, recruiting assistants, office staff, and supervisory staff. Interested individuals can visit 2020census.gov/jobs for additional information.
Learn more about the upcoming 2020 Census at www.2020Census.gov
Additional Resources:
###