Secretary of State Rolando Pablos Convenes 85th Legislative Session
"Texas Leads, Others Follow"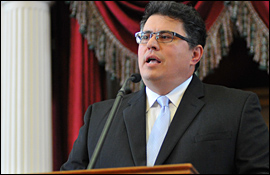 .
AUSTIN, TX – Texas Secretary of State Rolando Pablos today convened the 85th Legislative Session by presiding over the Texas House of Representatives for the swearing in of members and conducting the election of Speaker of the House.
In opening his remarks, Secretary Pablos praised Texans' strong commitment to serving their communities and urged legislators to rise to the challenges of serving their fellow Texans.
Secretary Pablos encouraged legislators to remember, "Texas leads, others follow."
"Texans have always answered the call to serve, no matter how high the price," Secretary Pablos said. "Whether on fields of battle, in boardrooms and classrooms, in houses of faith, or through charitable giving, Texans have long embraced their civic duty to serve their community."
Secretary Pablos also highlighted Texas' distinct impact on the global economy and the state's prominent role on the world stage.
"What happens in Texas, the world's 10th largest economy, leaves a powerful impression on other economies around the globe," Secretary Pablos said. "From Canada and Colombia to Japan and Singapore to Belgium and the Netherlands, and especially our friends in Mexico – our largest trade partner – whose relationship serves as a force-multiplier for Texas' economic success, our rightful place on the international stage is, in fact, center stage."
Secretary Pablos outlined a common objective for the 85th Legislature: "To keep Texas the land of opportunity, where a vision can become reality."
"Ordinary Texans do extraordinary things every day, making this Texas we love a truly special place," Secretary Pablos said. "It is their interests we serve. It is their lives we must honor. It is their future we must advance."
###