Texas Secretary of State continues tour with Dallas business roundtable hosted by YTEXAS and HKS
June 30, 2015
Contact: Alicia Pierce or Mari Bergman
512-463-5770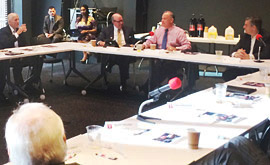 Austin, TX — Today, Texas Secretary of State Carlos Cascos will continue his Down to Business Tour by meeting with CEOs and business leaders in Dallas.
"The Dallas economy is one of the strongest in the nation and is attracting significant investment in Texas," said Secretary Cascos. "This roundtable discussion is a way to hear directly from CEOs who have made the decision to invest in Texas and learn additional ways we can help their businesses grow."
The eventwas hosted by YTexas, a CEO network designed to help newly relocated businesses, and HKS, a leading architecture firm and member organization of the YTexas network.
Ed Curtis, CEO of YTexas, stressed the importance of creating a connection with the Secretary and area CEOs. "Roundtables like this are a way to help build partnerships that are good for Texas and good for Texas business," said Curtis.
Sworn in on March 7, Secretary Cascos has since traveled the state on his Down to Business tour to highlight the strength and diversity of the Texas economy. Other cities Secretary Cascos has visited include: Houston, Pearland, El Paso, Dallas, Nacogdoches and Lufkin. You can follow his tour on Twitter with the hashtag #DowntoBusinessTX.
Learn about YTexas and its role in supporting businesses moving to or expanding in Texas here.
###