Secretary Hughs Delivers Remarks At AEM Business Summit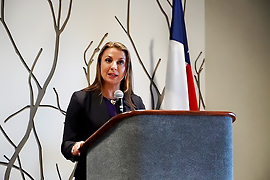 (Secretary Hughs delivers opening remarks at the
2019 AEM Business Summit in Austin, Texas Office
of the Texas Secretary of State, 9/20/2019)
AUSTIN, TX – Texas Secretary of State Ruth Hughs today attended and delivered opening remarks at the 2019 Asociacion de Empresarios Mexicanos (AEM) Business Summit in Austin. The Secretary thanked Mexican and American business owners, entrepreneurs, community leaders, and government representatives for their role in creating opportunities for economic growth on both sides of the border.
"The Lone Star State stands out among other states because of our ability to attract top talent and foreign investment, along with our world-class workforce and access to educational opportunities," said Secretary Hughs. "Texas and Mexico have long maintained strong, robust trade ties, and by continuing to work together, we will keep Texas the premiere state to do business."
AEM is a business association that strives to create business opportunities by strengthening ties and developing programs to help and guide Mexican and American businesses, business people, and young entrepreneurs to become global leaders for their companies' growth, development, and success.
###