Secretary Pablos Marks National Voter Registration Day, Commends Texas Educators On Empowering Students Through Voter Registration
"Voting and civic participation should be one of the most important traditions that we must uphold"
September 26, 2017
Contact: Sam Taylor
512-463-6116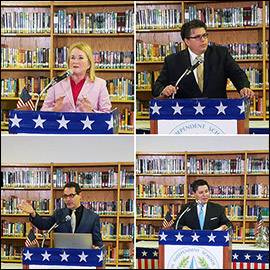 AUSTIN, TX – Texas Secretary of State Rolando Pablos invited all Texans to celebrate and participate in National Voter Registration Day on Tuesday, September 26th and praised Texas superintendents and principals for participating in his High School Voter Registration Initiative. On Monday, Secretary Pablos traveled to Houston to congratulate Houston ISD Superintendent Richard Carranza on pledging his full participation in the Initiative, which seeks to ensure all Texas high school principals distribute voter registration applications to their eligible students. As of today, nearly 400 school districts statewide have signed the pledge.
Secretary Pablos joined Superintendent Carranza, State Senator Sylvia Garcia, Mi Familia Vota, and other community partners at Sam Houston Math, Science and Technology Center to speak with high school seniors about the importance of registering to vote and engaging in the electoral process.
"We all have customs and traditions in our families and communities, and I believe voting and civic participation should be one of the most important traditions that we must uphold," Secretary Pablos said. "Getting our young students registered to vote ought to be a tradition in and of itself, ensuring that our youth is engaged and educated is the best way we can help our communities. I want to encourage every one of you here today to register to vote on National Voter Registration Day and seize the opportunity to make your voices heard."
"At HISD, we strive not only to send our graduates out into the world prepared for success in college or careers," Superintendent Carranza said. "We also strive to send them out to be good citizens who understand their civic responsibility and participate in the process that every single one of us must participate in, which is voting."
"Statewide voter registration efforts are critical to increasing participation in elections," Carlos Duarte, Texas State Director of Mi Familia Vota, said. "Voting is the great equalizer in our democracy and it is important that we instill a new tradition of voting among our youth, a tradition that they can exercise immediately during the local 2017 and statewide 2018 elections."
National Voter Registration Day was first observed in 2012 and is held on the fourth Tuesday of September each year.
"Today is the perfect opportunity for all Texans who are eligible - including those who have just reached voting age - to register to vote in the upcoming Constitutional Amendment Elections," Secretary Pablos said. "All Texans have an incredible opportunity to help shape the future of our great state, and I encourage all who are able to register and make their voices heard on November 7th."
If you are Texan who is eligible to vote, you may check to see if you are already registered or request an application online.
Texans must submit their completed voter registration applications to their county voter registrar no later than October 10th in order to vote in the November 7th Constitutional Amendment Elections.
The Texas Secretary of State's office reminds eligible voters that, if they possess one of the seven approved forms of photo ID, they must use that ID to vote. An approved photo ID may be expired up to four years. Those who do not possess and cannot reasonably obtain one of the seven forms of approved photo ID may vote by (1) signing a declaration at the polls explaining why they are reasonably unable to obtain one of the seven forms of approved photo ID and (2) providing one of various forms of supporting documentation such as a utility bill or a voter registration certificate.
Learn more about required identification for voting in person.
Voters with questions about the registration process and how to cast a ballot can visit VoteTexas.gov or call 1-800-252-VOTE. Texans can join the #VoteTexas conversation this election by following Vote Texas' Facebook, Twitter and Instagram social media platforms.
###