Secretary Pablos Delivers Keynote Address At Texas Leadership Forum
"Texas is taking the lead"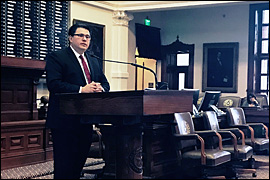 AUSTIN, TX – Texas Secretary of State Rolando Pablos today delivered the keynote address for the John Ben Shepperd Public Leadership Institute's 32nd Annual Texas Leadership Forum at the Texas Capitol. The Forum unites Texas leaders with young, aspiring leaders to discuss education, mentoring, and addressing the challenges state leaders face during the legislative session and beyond. Throughout the day, Texas leaders will lead breakout sessions to engage on a variety of topics with students and educators from across the state.
"Texas is taking the lead, but it hasn't happened by accident," Secretary Pablos said. "It's happened because of leaders who are willing to take on the risks and challenges to help put our state on top. I am deeply encouraged that our state leaders are here today to help empower the younger generation to continue building on the work they have done, and to explore new ways to keep Texas the land of opportunity."
For more information, please visit the John Ben Shepperd Public Leadership Institute.
###