Carlos Cascos Sworn in as Secretary of State
Priorities include Texas-Mexico relations, voter education and economic development
March 7, 2015
Contact: Alicia Pierce
512-463-5770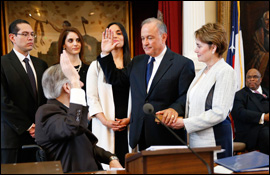 Austin, TX — Today, Carlos Cascos was sworn in as the 110th Texas Secretary of State.
"I enter this new chapter of public service with enthusiasm, dedication, and a vision I hope will better the lives of all Texans," said Secretary Cascos.
The oath of office was administered by Gov. Greg Abbott, who appointed Cascos to serve as Texas Secretary of State. Providing musical entertainment was Texas-born country music star Clay Walker.
Secretary Cascos was elected as Cameron County Judge in 2006 and was re-elected in 2010 and 2014. He previously served on the Texas Public Safety Commission and as a Cameron County Commissioner from 1991 through 2002.
In his remarks, Secretary Cascos expressed his intent to make Texas-Mexico relations a priority in his administration.
"Mexico is not just our largest trading partner," said Secretary Cascos. "It's our neighbor, our friend and our ally. We stand ready to work with our southern neighbor to strengthen our relationship and to ensure a prosperous region. We share not only a border but also cultures and customs."
Secretary Cascos also identified other priorities of his administration including encouraging voter participation and promoting Texas' strong economy.
Born in Mexico, Secretary Cascos immigrated to the United States as a child and became a permanent resident and citizen during adolescence.
Secretary Cascos graduated from of the University of Texas at Austin and is a Certified Public Accountant. He and his wife, Aurora Candida G. Cascos, have two daughters, Casandra and Andrea.
###