Secretary Hughs Convenes The 87th Texas Legislature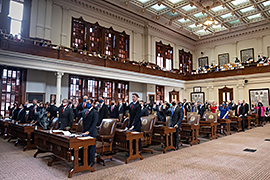 (House Members sworn in on the opening day of the
87th Legislature's regular session. Texas House of
Representatives, 1/12/21)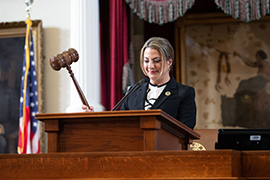 (Secretary Hughs presides over opening day
ceremonies and the election of a new Texas
House Speaker. Texas House of Representatives,
1/12/21)

AUSTIN - Texas Secretary of State Ruth R. Hughs today convened the 87th Legislature's regular session, presiding over the opening ceremonies for the Texas House of Representatives and conducting the election of the new Speaker of the House, Representative Dade Phelan.
"Our legislators have been entrusted by the people of Texas to confront the challenges and issues that our state faces and to do so in a way that is reflective of what it means to be a Texan–to approach adversity with unyielding determination, grit, honor, integrity, strength, and of course–with our Texas pride. Working collaboratively, we will help to build a brighter future for all Texans, and keep the Lone Star State the greatest state in the nation."
The Texas Legislature operates under a biennial system and convenes at noon on the second Tuesday in January of odd-numbered years for a maximum of 140 days. The 87th Legislature's regular session begins January 12th, 2021, and will conclude May 31st, 2021.
###