Secretary Of State's Office Hosts Texas Businesses Against Trafficking Partnership Forum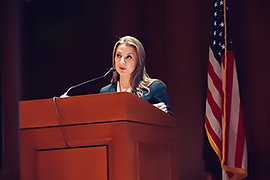 (Secretary Hughs delivers remarks at the Texas
Businesses Against Trafficking (TBAT) Partnership
Forum. Office of the Texas Secretary of State,
10/16/2019)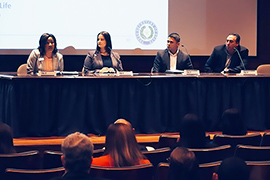 (Representatives from the business and nonprofit
sectors participate in panel discussions to share
best practices in combating human trafficking.
Office of the Texas Secretary of State, 10/16/2019)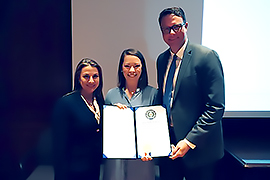 (Secretary Hughs presents a certificate welcoming American
Airlines as a new TBAT member at the partner level.
Office of the Texas Secretary of State, 10/16/2019)


AUSTIN - The Secretary of State's Office today hosted the Texas Businesses Against Trafficking (TBAT) Partnership Forum at the State Capitol alongside co-hosts The American Hotel & Lodging Association (AHLA) and Sabre Corporation. Secretary of State Ruth Hughs joined leaders in the government, business, and non-profit sectors for presentations on the TBAT program as well as a series of panel discussions on best practices for businesses to partner together to combat trafficking in the Lone Star State.
"Sex and labor trafficking have no place in our communities, and Texas will not stand for these heinous acts," said Secretary Hughs. "The TBAT Partnership Forum is a positive step for businesses in Texas towards finding new ways to work collaboratively to eradicate trafficking in our state. I thank our sponsors and associates for their involvement, and I welcome Texas businesses to join us in this important initiative."
"We are proud to partner with dedicated officials across the country like Secretary Hughs, who are playing a critical role in the fight against trafficking. Thanks to our dedicated hoteliers across the country, our industry already has a strong record of combating trafficking and supporting survivors," said Chip Rogers, president and CEO of AHLA. "Today, we are thrilled to build on this legacy by joining many of our partners in the travel industry, including several of our member companies, to support the TBAT Partnership Forum and advance our No Room for Trafficking campaign."
"Sabre is proud to be a certified member of the Secretary of State's Texas Businesses Against Trafficking program. As a Texas-based company with a significant global presence, Sabre is pleased to partner with Secretary Hughs, AHLA and other organizations around the country that are joining forces to fight trafficking," said Aimee Williams-Ramey, general counsel of Sabre. "The TBAT Partnership Forum is another important step in raising awareness of this issue and encouraging others to join our organizations as we continue this important work. Sabre and its thousands of employees around the globe are proud to take part in Sabre's Passport to Freedom initiative and are also dedicated to this fight."
In 2016, the Secretary of State's Office established a human trafficking prevention business partnership, Texas Businesses Against Trafficking, under §405.023 of the Texas Government Code and 1 Texas Administrative Code Chapter 90.
###