Secretary Hughs Visits Laredo, Tours World Trade International Bridge

(Secretary Hughs delivers remarks on the importance
of trade relations with Mexico on the U.S. and Texas.
Office of the Texas Secretary of State, 10/4/2019)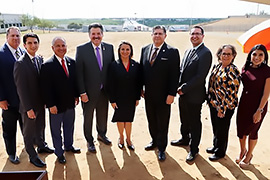 (The Secretary was joined by Laredo Mayor Pete
Saenz as well as local government and business
leaders. Office of the Texas Secretary of State,
10/4/2019)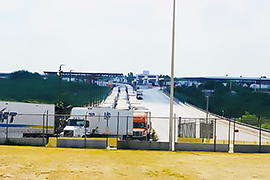 (A line of 18-wheelers waits to clear customs at the
World Trade International Bridge and enter the U.S.
Office of the Texas Secretary of State, 10/4/2019)


LAREDO - Texas Secretary of State Ruth Hughs yesterday visited Laredo, where she toured the World Trade International Bridge, which connects the United States and Mexico. The Secretary also met with Laredo Mayor Pete Saenz as well as local government and business leaders to discuss ways to help address the needs of the community and ensure continued smooth trade between Texas and Mexico.
"As we Texans know, there's no better place to do business than in the Lone Star State," said Secretary Hughs. "Our trade relationship with Mexico has thrived because we know that their success is our success. By working collaboratively, we will further strengthen this relationship, continue to create economic growth, and take Texas to even greater heights. I thank Mayor Saenz for his leadership, and I look forward to our continued success."
"It was a pleasure to host Secretary Hughs in Laredo, the nation's largest inland port," said Mayor Saenz. "Laredo handles over 40 percent of all trade with Mexico and we contribute significantly to the Texas and U.S. economy. I appreciate the Secretary's time to learn about our city and operations and her help in strengthening our strong relationship with our partners in Mexico."
The World Trade International Bridge is one of four international bridges located in Laredo, which, along with the city's other ports, collectively accounted for $303 billion in total trade in 2018 alone.
Learn more about the economic impact of trade in Laredo on the U.S. and Texas.
###