Secretary Hughs Joins Economic Trade Mission To Mexico
As the Lone Star State's largest trade partner, it is imperative that we continue to have robust trade ties with Mexico

(Secretary Hughs discusses opportunities for
collaboration on infrastructure development as well
as cultural, commercial, and trade issues with
Jesus Seade, Undersecretary for North America,
and Mario Chacon, General Director for North America
from the Mexican Ministry of Foreign Relations. Office
of the Texas Secretary of State, 10/4/2019)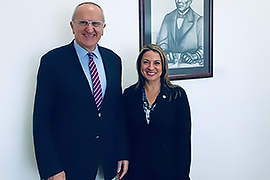 (Secretary Hughs poses for a photo with Jesus Seade,
Undersecretary for North America. Office
of the Texas Secretary of State, 10/4/2019)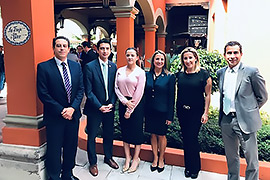 (The Secretary discusses the border transportation
master plan with officials from the Mexican General
Customs Administration. Office
of the Texas Secretary of State, 10/4/2019)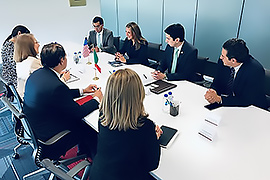 (The Secretary meets with Mexican ministry officials
to discuss trade and economic issues. Office
of the Texas Secretary of State, 9/16/2019)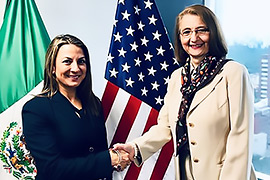 (Secretary Hughs shakes hands with Luz Maria de
la Mora, Vice Minister for Foreign Trade for the
Mexican Ministry of Economy. . Office of the Texas
Secretary of State, 9/16/2019)

MEXICO CITY – Texas Secretary of State Ruth Hughs this week joined an economic trade mission to Mexico led by the San Antonio Hispanic Chamber of Commerce (SAHCC). The Secretary participated in the trade mission alongside key leaders in the sectors of energy, cybersecurity, and advanced manufacturing to foster economic opportunities and to deepen the Texas-Mexico relationship.
Secretary Hughs began the mission by meeting with officials from the Mexican Ministry of Foreign Relations, where she discussed opportunities for collaboration on infrastructure development as well as cultural, commercial, and trade issues with Jesus Seade, Undersecretary for North America, and Mario Chacon, General Director for North America.
Secretary Hughs then met with the National Association of Mexican Importers and Exporters, where she spoke of the importance of robust trade relations, and the positive impact that the passage and implementation of the United States Mexico Canada Agreement (USMCA) would have for the United States and Mexico.
The Secretary also met with Gabriela Diaz Maraboto, Customs and International Affairs Central Administrator for the Mexican General Customs Administration to discuss steps needed to develop a successful border transportation master plan between Texas and Mexico.
Finally, Secretary Hughs met with Luz Maria de la Mora, Vice Minister for Foreign Trade, and Lydia Antonio de la Garza, General Director for North America from the Ministry of Economy, in addition to Cesar Remis, the Head of Unit for the International Negotiations Unit. They discussed ways to create further opportunities for trade, development, and economic growth, and the leaders committed to establishing increased communication between Texas and Mexico.
The Secretary thanked San Antonio Mayor Ron Nirenberg and SAHCC for their collective commitment to strengthening the long-standing diplomatic, commercial, and cultural ties between Texas and Mexico.
"Texas and Mexico maintain a unique and special relationship in that we share a history and a heritage. Relationships take time to develop, and they must be maintained and continually strengthened," said Secretary Hughs. "As the Lone Star State's largest trade partner, it is imperative that we continue to have robust trade ties with Mexico, and I am humbled to have had the opportunity to be a part of this trade mission to further strengthen our already strong relationship with Mexico and to create even more economic opportunities for the city of San Antonio and the state of Texas."
Learn more about the San Antonio Hispanic Chamber of Commerce.
###