Secretary Pablos Convenes Border Trade Advisory Committee Meeting With Transportation Infrastructure And Technology Focus
"Every corner of the state benefits from quality transportation infrastructure"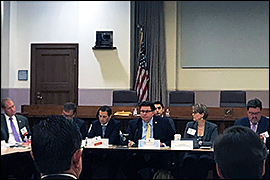 Secretary Pablos convenes the Border Trade
Advisory Committee Meeting.
AUSTIN – Texas Secretary of State Rolando Pablos today convened the second Border Trade Advisory Committee (BTAC) meeting of 2018, his fifth since taking office, focusing on cross-border transportation infrastructure and technology. Secretary Pablos began the meeting by introducing Texas Transportation Commissioners Laura Ryan and Alvin New, as well as cabinet-level representatives from the Mexican border states of Chihuahua, Coahuila, and Tamaulipas. Next, the Committee heard a presentation from Texas State Representative Alfonso "Poncho" Nevárez of Eagle Pass, who discussed the legislative perspective on the importance of the Texas-Mexico border region and role of highway infrastructure development in facilitating cross-border trade. The Committee also received a presentation from NEC's Benji Hutchinson on cutting-edge border technology, facial recognition, cyber security, and improving efficiencies.
Representatives from the Texas Department of Transportation (TxDOT) joined public officials and private sector leaders from the border region to provide an update on the Texas-Mexico Border Strategic Transportation Blueprint. Subcommittee Chairs provided an overview of recommendations, including the establishment of a Texas-Mexico Trade Transportation Task Force, developing a Texas-Mexico Trade Lanes Program, developing a public awareness and education program, implementing technology and innovative binational border strategies, and fostering private sector involvement.
Secretary Pablos and TxDOT leaders then led a discussion on the progress of the Texas-Mexico Border Transportation Master Plan to coordinate implementation of border transportation infrastructure projects. Next, the Committee received a regional transportation update from TxDOT Laredo District Engineer David Salazar and Webb County Judge Tano Tijerina, who outlined transportation challenges and opportunities in Laredo, the largest inland port on the U.S.-Mexico border.
The Committee then engaged in a discussion on future meetings and topics. Secretary Pablos concluded by thanking TxDOT and the Committee members for facilitating a successful BTAC meeting and expressed his desire to welcome additional public officials and private sector leaders from Mexico to participate in future Committee discussions.
"As I travel across Texas, I see that every corner of the state benefits from quality transportation infrastructure. It is critical to always communicate our respective regions' transportation needs so that we can offer proactive solutions to the challenges that come with expanding economic activity," Secretary Pablos said. "I would like to thank the Texas Transportation Commissioners for their keen interest in border infrastructure, and thank all Committee members for their participation and commitment to facilitating robust commercial exchange with our state's top trade partner. As we continue to work together to develop innovative cross-border transportation strategies, I am confident our international trade with Mexico will only grow stronger in the coming years."
Learn more about the Border Trade Advisory Committee.
###