Secretary Pablos Welcomes His Highness The Aga Khan To Texas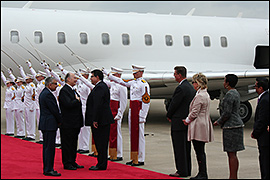 Secretary Pablos welcomes His Highness the
Aga Khan to Texas at the Sugar Land Regional Airport.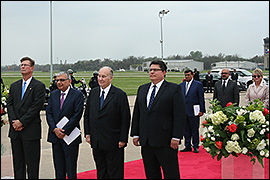 From left to right: Sugar Land Mayor Joe Zimmerman,
President of the Aga Khan Council for the United States
Dr. Barkat Fazal, His Highness the Aga Khan,
Secretary of State Rolando Pablos.


HOUSTON, TX – Texas Secretary of State Rolando Pablos today welcomed His Highness the Aga Khan, the spiritual leader of the worldwide Shia Ismaili Muslim community, to Texas on the occasion of his Diamond Jubilee. Texas is home to the largest Ismaili community in the United States; Ismailis reside throughout the U.S. and in 30 countries globally.
The State of Texas and the Ismaili Imamat and Aga Khan Development Network (AKDN) have been collaborating since 2002, initially focusing on primary education and in jointly inaugurating the Ismaili Jamatkhana and Center in Sugar Land. Today, the Center is a place to encourage exchange between civic organizations, civil society, and faith communities. This partnership was formalized through an Agreement of Cooperation in 2009, and expanded into other areas including post-secondary education, disaster recovery, health, and culture.
Houston's Ismaili Muslim community embodies the ethic of service to others, having recently received the Points of Light award from five former U.S. presidents in October 2017 for organizing and dispatching more than 2,500 volunteers to assist in recovery efforts throughout southeast Texas following Hurricane Harvey. Secretary Pablos expressed his sincere appreciation and honor to host His Highness in Texas and congratulated Texas Ismailis on their exemplary community engagement and humanitarian efforts throughout the Lone Star State.
"It is my distinct honor to welcome His Highness the Aga Khan to Texas, where the Ismaili community has shown its commitment to strengthening and empowering our state through service, entrepreneurship, and spiritual leadership," Secretary Pablos said. "I would like to thank His Highness for his vision, his leadership, and his community's deep friendship with the State of Texas."
His Highness the Aga Khan, the founder and chairman of the Aga Khan Development Network (AKDN), is the 49th hereditary Imam (spiritual leader) of the world's 15 million Shia Ismaili Muslims. The AKDN is a group of private, international, non-denominational agencies working in over 30 countries to improve living conditions and opportunities for people in specific regions of the developing world. The AKDN's organizations have individual mandates ranging from health and education to architecture, rural development and the promotion of private-sector enterprise.
Learn more about the Aga Khan Development Network.
Learn more about His Highness' visit to the United States.
###