Secretary of State Berry congratulates Blue Bell on 107 years of providing Texans tasty treats
August 1, 2014
Contact: Alicia Pierce or Jeff Hillery
512/ 463-5770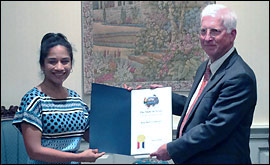 Brenham, Texas – Today, Texas Secretary of State Nandita Berry celebrated the 107th Anniversary of the founding of Blue Bell Creameries by presenting a proclamation to Blue Bell CEO and President Paul Kruse at Blue Bell headquarters in Brenham. Blue Bell Creameries, first known as Brenham Creamery Company, was incorporated in Texas on August 3, 1907.
"Blue Bell is one of many companies we can proudly say started right here in the Lone Star State, and I am thrilled to help celebrate more than a century of Blue Bell bringing a little extra sweetness to Texas," said Secretary Berry. "We're proud that companies start here and prouder that they choose to stay here. Texas remains, as she always has, wide open for business."
Kruse stressed the company's strong ties to Texas.
"Blue Bell is available in 23 states and is the third best-selling branded ice cream in the country, but we never forget that we started out as a small coalition of creameries in Brenham," said Kruse. "We are pleased to still be a Texas-based company today, 107 years later."
In 1907 local farmers decided to establish the Brenham Creamery Company and make butter from excess cream brought in by area farmers. A few years later, the creamery began making ice cream and delivering it to neighbors by horse and wagon. In 1930, the company changed its name to Blue Bell Creameries after the native Texas bluebell wildflower.
Blue Bell has produced many products over the years, including the original Cookies 'n Cream, but the most popular flavor of Blue Bell Ice Cream, year after year, is Homemade Vanilla.
Secretary Berry echoed the popular opinion.
"I love checking out the newest flavors of Blue Bell Ice Cream, but my first choice is always Homemade Vanilla," said Berry.
###