Secretary of State John Steen Convenes 83rd Legislative Session
January 8, 2013
Contact: Rich Parsons or Alicia Pierce
512/ 463-5770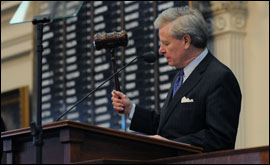 AUSTIN, Texas – Texas Secretary of State John Steen today convened the 83rd Legislative Session by presiding over the Texas House of Representatives for the swearing in of members and conducting the election of Speaker of the House.
In his remarks, Secretary Steen stressed the importance of legislators working together for the benefit of all Texans and to ensure Texas remains a national and global economic leader.
"Texas is a land of big horizons, which inspire us to be a state of big ideas," said Secretary Steen. "Now is not the time for small thinking. Instead, we must call on our state's history of innovation, independence and enterprise as inspiration and guidance for our future."
He also reminded members the decisions they make in the upcoming legislature will impact generations of Texans for years to come.
"The decisions made in this grand chamber will echo well beyond the rotunda, all across our wonderful state, from the Rio Grande Valley to the Panhandle and from the Piney Woods of East Texas to the mountains of El Paso," said Secretary Steen.
The Secretary of State is statutorily required to preside over the Texas House of Representatives at the beginning of every legislative session to temporarily organize the business of the House, swear in members and preside over the election of the speaker.
For more information on the Office of the Texas Secretary of State, please visit www.sos.state.tx.us.