Secretary of State Hope Andrade visits UT Arlington to discuss importance of youth vote in Texas elections
September 4, 2012
Contact: Rich Parsons or Alicia Pierce
512/ 463-5770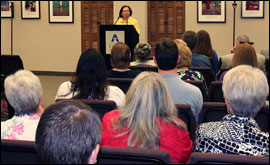 ARLINGTON – On Tuesday, Sept. 4, 2012, Secretary of State Hope Andrade visited the campus of the University of Texas at Arlington to discuss the importance of the youth vote in Texas elections. The Secretary's visit was hosted by the League of Women Voters-Arlington Area and UT Arlington's Women's and Gender Studies Program.
"Texans expect and deserve elections they can have confidence in; our state's future depends on it," said Secretary Andrade. "And it's critical each new generation of voters understands how vital they are to the process and to the future of our great state."
Secretary Andrade also reminded the group photo ID will not be required when voting in person during Early Voting from October 22 through November 2, or on Election Day, November 6. For a list of acceptable forms of identification, or for questions about voter registration or the election process, Secretary Andrade urged the audience to visit VoteTexas.gov.
Last day to register to vote is October 9, 2012.